Top Hair Care Tips To Protect Your Hair This Summer At Coco Hair In Eastbourne
It's that time of year again and the temperatures are rising! Whether you are lucky enough to get away for your summer holidays, or if you are staying in the UK, it's time to start thinking about how you will protect your hair from the summer! At Coco Hair Salon in Eastbourne we can share with you our favourite tips for keeping your hair safe this summer...
Summer Hair Care In Eastbourne
Eastbourne
Brighton
Bexhill
Hastings
Combatting Frizz At Coco Hair
We always get asked 'how do I stop getting frizzy hair?' Well, your hair becomes frizzy when there is a lack of moisture in your hair, which is why your hair can be more frizzy in the summer! One way to really get your hair hydrated and prevent frizziness is to get a conditioning treatment in salon.
If you can't get into the salon before your holiday, or you would like to add to your hair care routine, a great option to keep your hair hydrated and frizz-free is the Eufora Smooth'n shampoo and conditioner. This sulfate-free combo will leave your hair silky and smooth from the first wash, helping to keep your frizziness at bay!
Speak to your Coco hair stylist about smoothing treatments and products for your summer hair care!
Protect Your Hair From Damage And Fading This Summer
It's important to look after your hair when it is being exposed to the sun, heat, sea water and chlorine.
The perfect way to do this is by using a hair soothing shampoo and conditioner and protective spray from Sensus. This Sun Care After Kit nourishes and repairs after exposure to sun, chlorine and seawater. You can buy this kit from our shop, click here!
Protecting your hair from the sun with a great shampoo and conditioner is essential to prevent colour fading, but we would also recommend using a hat wherever you can!
There are some fabulous hats out there to try, and your holiday is really the best time to try a bold new style!
Protect Your Hair From Chlorine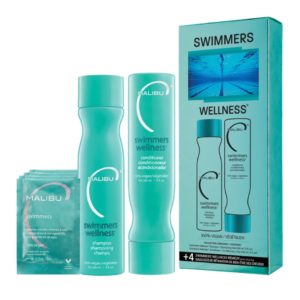 If you can't be kept out of the pool on your holidays then you need to take extra care to prevent your hair from chlorine damage. Chlorine is well known to cause your hair to become dry and lead to breakage, as well as fading your hair colour!
Before you jump into the pool, you should treat yourself to the Malibu C Swimmers Wellness Shampoo and Conditioner which will help your hair stay hydrated and prevent colour fading.
We would always recommend using a swim cap when in the pool to protect your hair from chlorine damage, there are some really fun options on the high street!
Buy Your Summer Hair Products at Coco Hair Salon
If you want to protect your hair from sun damage this summer, speak to your Coco stylist about the best products for you and visit our online shop to have them delivered direct to your door! To speak to your stylist about the best products for you, book your appointment on 01323 471147 or book online here!